June 16 2020 downtown LA
last update: June 18 2020

How did rave and club scenes respond to the first week of the BLM movement?
---


The following is an overview of explicit public reactions to the BLM movement as seen in different parts of the electronic music industry mainly from Friday May 29th thru Sunday June 7th 2020.

There is no discussion here about Nina Kraviz or the scene's newly revealed alt-right DJ, Cassy. But, my kind advice to Cassy along with a preview of what's to come when Swimfan does talk about Nina, all set against the backdrop of the first week of Black Lives Matter, is over at

Berghain's Mirror: A Prologue

.

I hope this overview helps us better understand how our roles may vary from each other's during the BLM movement and how even our own roles may change throughout this cultural paradigm shift.

Also, I hope we all become more motivated to take steps in improving as Black Lives Matter allies, especially participants in techno and rave cultures.

To quote the protest sign, "THERE'S NO GROOVE WITHOUT THE BLUES".



Behold—Berghain's Mirror
On Friday June 5th, LSDXOXO couldn't help but wonder about Berghain's role so far during week one of the BLM movement.
Techno's most influential club had been silent all week. LSDXOXO suggested the club pay up. He called on Berghain to spend their "techno coin" on the movement.
Berghain was the first major club to shut its doors amidst the COVID-19 pandemic. Other notable rave establishments quickly followed.

Berghain was silent though as the world caught on fire over George Floyd's death.

The club broke that silence the day right after LSDXOXO's tweet. Wie sagt man "spicy" auf Deutsch?

Berghain's speakers were two of its longstanding resident DJs: Ben Klock (400k followers) and Marcel Dettmann (150k followers).

Here's what the "techno temple" had to say one week into Black Lives Matter and the revolt against racism.




Both posts were met with general positivity.

Although, to be a clubber while "Black Lives Matter" is blasting around the world and your comment on a DJ's BLM post is,


Additionally, Berghain added a light memoriam for black people in Germany and America who've died at the hands of police brutality.

It's not obvious but some of the names link to fundraisers. Click around and you'll be able to tell that not much thought went into which fundraisers to direct us to.

You can view a list of selected names at

saytheirnames.berghain.berlin

.



So, after one week of online and offline BLM protests around the world, the cornerstone club in techno shares a black square and a slim memoriam coincidentally the day right after some shit talking takes place on Twitter.
"What else could Berghain do?" some of us may wonder. Well, an aid compilation album is certainly feasible and thoughtful.
What's it like

being black in Berlin?

What all do

BLM

communites

want in Berlin

?

Is an industrial techno club occasionally pivoting to a social movement resource center the kind of radical idea to start thinking about?

Honestly, post-pandemic, the idea isn't even all that radical, is it?
Around Jesus Christ's birthday,

the club did a pseudo ice skating rink after all

.

Berghain is supposed to set certain examples, right? Some of us may even wish for Berghain to think outside the black square.
As its establishment states at the end of their BLM memoriam:


"This list is long, but not exhaustive. And it continues to grow."
So, what will Berghain do next? Frankie from Discwoman
has some ideas
.
While Berghain can afford to spend some techno coin aiding the BLM movement as the club has millions in the bank and so far has spent 40€ on a can of black paint, what happens when Berghain starts thinking outside its black square?
Next Up: The Instagram DJs Who Profit The Most Off Techno Scenes


To be clear, by "Instagram DJs who profit the most off techno scenes", I just mean, "Superstar DJs whose upper echelon bookings charge $$$$$ to play one 90 minute set". That's mainly what I mean.

So, pre-pandemic, these DJs are making the most techno coin.

They also have some of the largest followings on the internet when it comes to techno and rave cultures.

So, what did Amelie, Charlotte, Peggy, and Richie have to say about BLM as it unfolded?



Amelie Lens


Instagram

1.4 million followers


Twitter

86.1k followers


It was Amelie Lens' birthday on Sunday May 31st. Around the next day or so, she started using her platform to bring attention to certain elements of the BLM movement; namely, those of us who think we already know how "deep" racism goes, think again.
"We should educate ourselves more," she affirmed while she admitted her own ignorance.

She changed her profile picture on Instagram to a black photo that displayed the hashtag, "#stopracism".

Throughout the week on the internet, Lens prompted conversations on the BLM movement with her followers across Twitter and Instagram.

She attended a BLM protest in Antwerp.

She stuck her neck out for Nina when netizens criticized a particular tweet that Kraviz had "liked".

Amelie is passionate about animal rights and is no stranger to educating fans on that topic. I trust she is figuring out how to put her platform to better use when it comes to speaking about anti-racism and the BLM movement.

For now, she tells us her life has changed profoundly in the last two weeks. I believe her.






Charlotte de Witte


Instagram

1.4 million followers




Twitter

103.5k followers



Charlotte shared about a two page story on her Instagram in the middle of week one. I do not have her words verbatim from that post. But, there were remarks of feeling overwhelmed, stressed, and saddened by recent events.

On Twitter, she

retweeted scenes

from a protest in Ghent and shared some of her concern.





Her Instagram looked like this throughout the week. Who doesn't like to see Charlotte smile? (Not sarcasm.)





Charlotte's first week contributions to the BLM movement would leave many wanting more. I had hoped but trusted she would find her voice eventually and she appears to be finding it sooner than I had anticipated...

By the end of BLM's second week, Charlotte was retweeting a

new interview

where she said much more about what is framed as a "modern anti-racism movement":

"Current events have once again revealed that racism is rooted in our communities and industries. We should not live in a world like this. We should not accept this. We should be more evolved; equality and respect should be self-evident."
Charlotte de Witte in EARMILK magazine Saturday January 13 2020



Interestingly, there's just one comment on the interview from a reader. The comment definitely takes the conversation in a certain direction...


"When she stops playing to a mostly white owned, highly gentrified, EDM circuit based on overt capitalism every summer, I may take Charlotte's political rhetoric seriously. Spoiled Euros giving empty recognition to Detroit when Michigan is in such decay is fucking shallow."
raver, EARMILK magazine Sunday January 14 2020





Peggy Gou




Instagram

1.7 million followers


Not officially on Twitter



Peggy, as Amelie, also has used her platform in the past to speak up about significant issues. She's shared video of herself condemning racism toward Asians.

During week one of the BLM movement, she

spoke firmly

about the importance and responsibility of speaking up against racism toward blacks. She urged followers to contribute positively to the movement in any way they can.

She told us she was currently listening to Tupac.

Since week one of BLM, Peggy has announced a partnership with Jägermeister to aid different parts of the nightlife industry that have been especially hit by the COVID-19 pandemic.

One million euros will be split across clubs, promoters, artists, and certain initiatives in

ten countries around the world

.





Richie Hawtin


Instagram

703k followers
Twitter(not utilized) 651.k followers

Richie was poetic on his Tuesday Instagram Black Square. He reminded us that people are "united by music on a communal, expressive and inclusive dancefloor". He urged us to "all work together to end racism, seek justice, [and] heal society".

He hoped for a "safer and more positive world" on the other side of these historic moments.

It was his birthday as well during week one of the BLM movement. Also, he dealt with the soft opening of his brand spankin' new sake bar in Berlin, which surely will attract ravers, some with the hope to run into and speak to the thoughtful Hawtin.

His statements so far on the BLM movement are abstract. If one prefers BLM commentary, especially on a huge celebrity platform, to call for some kind of positive tangible action regarding the movement, then Richie's remarks so far leave one wanting more.

At the same time, being reminded that the dancefloor is often partly about the acceptance of others ain't too bad as a start.



So, what will our Instagram DJs project on their platforms this summer? Are toes dipped in BLM one week, with little to no effort to support the movement to follow?

Who will lead by example?

And is it actually true that some of these DJs profiting the most off techno scenes do not pay out the artists from the music they play during their $$$$$ sets?

Unless you count "exposure" as a form of payment...



Such a Spotify thing to do, no?



Post-pandemic during a revolt against racism, what are we promoting?

Right, guys?

Winking.


Up Next: The Platforms That, However Well-Intended, Only Posted Black Squares


1.
2.
3.
4.
5.
6.
7.
8.
9.
10.
11.
12.

The list goes on and on and I decided not to pick and publish names.



The Black Squares Of Instagram

looked good on paper but performed poorly out in the real world.

The intentions were there. The execution was not.

There was plenty of missed opportunity to spread some knowledge and/or highlight black voices and/or call for action across hundreds of thousands of ravers and clubbers.

Information overload was surely felt by many during the first week of the BLM movement. Execution is of course so much.

At the same time, I'd like to think that such a global brand as Awakenings, which attracts hundreds of thousands a year, is better equipped to drop more than

emojis and a black square

during a revolt against racism.

It's possible your favorite DJ and/or party promoter is on this list. As discussed in the

prologue to this piece

, for various reasons, not everyone is ready to speak to hundreds of thousands of fans on BLM and anti-racism.

I'm not alone though in hoping for improvement from certain platforms.




Let's move on.






Up Next: Techno Opens Its Purse


Whether via a personal donation or via record label donations, those on this list used their platforms to promote taking action via providing financial support.

Some even showed receipts.


Actual Receipts


The following DJs and platforms shared actual receipts of the money they donated to the cause. The act of posting receipts is a growing trend that's more often seen outside the electronic music industry.

Techno receipts for BLM so early on is a nice sight to see, no?

It appears those on this list dodged a bullet by not donating to the questionable

Black Lives Matter Foundation

and they've all helped show a rarely-seen-in-techno but surely impactful way to contribute to the BLM movement.


Transparency. How about that?




Ayarcana



Luke Slater

Perc

Pinch, Tectonic Recordings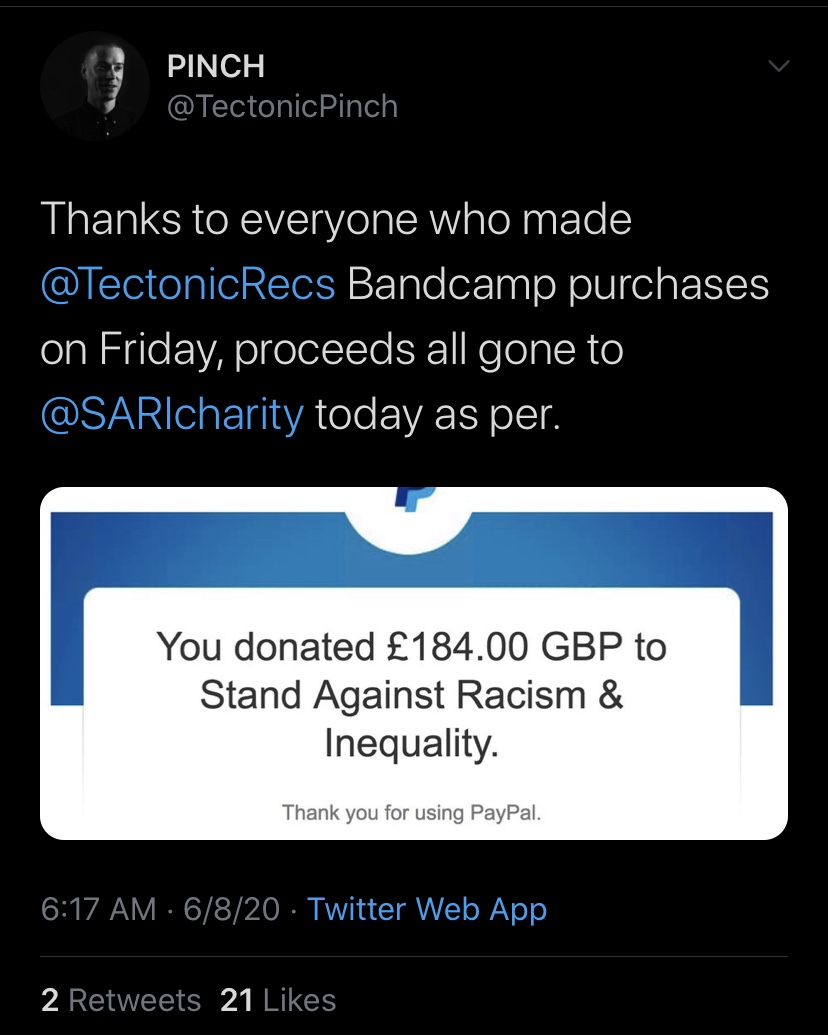 The leading online publication for electronic music is battered.
In the span of a week and some change, Resident Advisor was called out by Omar-S, Twitter, and one raver who wondered,

"yo RA, where are your hard questions?"





The company upped their initial donation of $500 to $15,000 and they

confessed

that they must do better in supporting black communities. RA will start rewriting certain narratives in electronic music history and will be examining their values and how to better utilize their position of privilege.


The company's official statement regarding its role in the BLM movement sounds regretful of past mistakes. It also sounds as if RA genuinely wants to do better.
Let's see what Resident Advisor does this summer.



Other Forms Of Donation
Let's not forget Surgeon and his husband, DJ Bus Replacement Service, the latter who drew a bit of blood as seen up above regarding Resident Advisor's Virgil moment.
I hear Boiler Room went public with proof of BLM donations. But, to quote one rock star, "Boiler Room is a cunt."

Up Next: Cornerstone Clubs


How did some of electronic music's most influential clubs respond to Black Lives Matter?
Bassiani
Robert Johnson Club


Fabric shared a letter in support of BLM on Facebook and

on their website

.
Electronic Music Publications That Aren't
Resident Advisor
DJ Mag was pretty on it with sending support and staying on topic during week one. The publication

donated to multiple BLM initiatives

and even reported on The Weeknd

calling out

streaming services and major record labels to put their money where their exploitative, capitalistic mouths are.
DJ Mag shared a

full statement

on their website and during week two of BLM, they revisited a

2018 feature

of theirs on some of the black and mixed-race DJs who helped build the UK dance scene.
Electronic Beats blacked out their website and got involved in the conversation as well. False Witness contributed to the publication with an essay called,

"

The Black Square: #BlackOutTuesday and Performative Allyship in the Music Community

"

.
The publication expressed urgency surrounding the movement.

"A lot needs to be done right now."
Truants was not playing around. Both their

Instagram

and

Twitter

consistently posted relevant and often easy to digest information in support of the BLM movement. They also made various donations and provided receipts at the start of it all. This global band of friends

started as a blog

but is breaking through as a top news source in the scene.
The DJs Who Protested
Dax J protests in Berlin.
Eris Drew protests on the Northern East Coast of the US of A.
The DJs With Some Bite
On the count of three:

One.

Two.

Fuck the police.

Cera Khin

Frankie, Not A DJ, Discwoman Co-founder

Shyboi
Special Request also

spoke the fuck up

and Ashleigh Lauryn was

on fire

.


The Earnest Educators
This group was firm and consistent with various forms of support for the BLM movement. They shared their own perspectives, logistical and theoretical information, and vehemently stood against anti-black racism.



6AM Group

Los Angeles' portal to most techno from abroad is thanks to the promoters behind 6AM Group.

The company's co-founder, Marco Sgalbazzini, has used his platform in the past to speak up about the electronic music industry's role regarding certain

human rights issues

.

On June 1 2020, a week before Berghain shared its black square, Marco

published his essay

, "Black Lives Matter: The Electronic Music Industry Must ACT".


False Witness

Queer artist, DJ, and writer, Marco Gomez aka False Witness, is no stranger to sharing politcal hot takes. On Twitter, he balances the big topics with light humor that shows he doesn't take himself too seriously.
His essay for Electronic Beats asks
, "What constitutes as true accomplice work versus feckless, performative allyship in an online-only setting?"
He's techno-banger-meets-academia but his head is definitely not in the clouds.

Jeff Mills

Mills'

Facebook

is rich with ongoing developments of the BLM movement and the news surrounding it.

He doesn't share much of his own words—the headlines are already a lot to take in. I imagine techno's

very own Morpheus

has a lot to say to us though.




Pariah



Pariah's words on Instagram are heartfelt. He calls on individuals, especially privleged ones, to recognize systemic racism and to be "actively anti-racist".

On Twitter, he does exactly that by bringing more attention to allegations against audio production company, Native Instruments, for apparent racist behavior within its own offices.
SPFDJ



The DJ responsible for my

most danced to mix

during my lockdown in downtown LA, is now emerging from the rave scene as a strong, sincere, and creative BLM ally. She's shared plenty of resources and book recommendations, information on how to protect yourself at protests and where to protest, and she whipped up a

solid Buy Music Club list

of forty Bandcamp recommendations from twenty different black artists.

Lina's list is how I got into a hot new LP packed with techno grinders:

BXTCH SLÄP

from Jasmine Infiniti.

Lina was even in the trenches trying to reason with the kind of Instagram users who comment on a BLM post with

"All Lives Matter"

.



She even bit the hand that feeds by calling out the promoters behind one of her most raved about sets.



She's kept the momentum going during week two as well. The DJ who once mocked the question, "Track ID?" now openly shares setlists directly after a mix airs, highlighting the diverse roster of DJs she just played.

SPFDJ is creative with getting certain messages across. She continues to be a refreshing but level-headed voice worth listening to in the scene.


---
In closing: more voices who spoke out in their own way in support of the very first week that swept us into a movement with the message that black lives fucking matter and, to quote Bordeaux's

Djedjotronic

,

"racists off our streets"

.

Amanda Mussi


Baby Blue


BerlinClubMemes


Bjarki

Chris Liebing


Dear Morni

Djedjotronic


DSNT

Fjaak
(had a strong anti-cop message but appear to have taken it down for some reason and they've since posted a
different photo
with the caption, "racism is bad energy")


François X

Freddy K

Grindvik

Herrenscheide
Kyle Geiger

Light Asylum

Louisahhh

Maëlstrom

Marie Davidson
Machine Woman

Millenials Events

Nick Moody


Paula Temple


Peder Mannerfelt

Pilo


Tommy Four Seven


Yoan Lokier
This list is long, but not exhaustive. And it continues

to grow

.